Achieving procurement objectives may not be easy, but the result more than justifies the effort.
Excellent performance requires a specific combination of innovative and creative thinking, a trained (purchasing) organization and a disciplined execution.
With the slogan "value creation by (out)sourcing" we create value in the whole supply chain to help our customers stay or become competitive. On the one hand by sourcing manufactured parts with the right quality against the optimal costs from low cost region suppliers (with focus on Romania) and on the other hand by helping these suppliers to optimize their supply chain (purchasing and material management) so they can maximize their bottom line result and offer our customers the lowest possible price.
Especially in these areas we have a broad experience and the organization to realize these procurement objectives. We work closely together with experienced people and organizations to help you achieve significant cost savings on manufactured parts.
By this approach we are able to create value in the whole chain!


S&PP will take care of all problems in the supply chain between the customers and the suppliers, might they occur.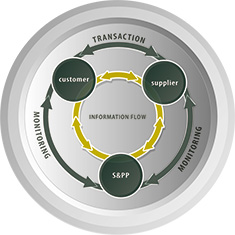 Technische Industriële Vakbeurs-Hardenberg
During 1-3 September 2009 you can find us at TIV Exhibition, in exhibition Hall 4, stand 486. Get more details